The new album is out now !!!
Bones' new CD "Nomad" now available!
Click here to listen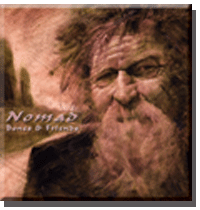 Download "Gaper" FREE Here
Bones' first solo album


Papa Wheelie
Avalanche
Here I Am
Ritmo del Sol
Serengeti
Balance
Solsbury Hill
Wing
Ignore Them
Kick It
Mhondoro
San Juan
Today

Papa Wheelie features Bones on Vocals, Steel-drums, Marimbas, Didgeridoo, Guitar, Drum-set, Congas, Bongos, Timbales,
Djembe and Djun-Djuns.


"Papa Wheelie"
New Release $15.00




| | | |
| --- | --- | --- |
| | Listen to samples here | |
| Song Title | Low Quality Stream | High Quality Stream |
| Balance* | | |
| Solsbury Hill * | | |
| San Juan ** | | |

Bones' Demo
3 Songs $5.00

This CD was recorded using the same equipment as Bones uses live. Some arrangements have been condensed for demo purposes bt it truly represents Bones' live sound.

Available only at shows
Bones produced Jaka's third release "Balance" and is still performing a bunch of the tunes he wrote for it!
(Thanx to David, Matt & Glenn
for thier contributions and permission to use them)




"Balance"
2003 Release $15.00

Jaka's latest release
is now avaliable!

Balance is a powerful & dynamic collection of 12 new original songs. Balance's joyous fusion of Soukous Guitar, Marimba, Caribbean and African Percussion, Pedal Steel Guitar, Mbiras, Horns, Pennywhistle, Steel Drum and soaring vocals is sure to make this a favorite with avid fans as well as the first time listener.
To place a mail order, please add items to shopping cart,
print invoice, and mail with check or money order to

CageFree Records
PO Box 81
Nederland, CO 80466

Enter quantity and click button to add items to shopping cart.
This website is equipped with a secured server online shopping cart
and credit card processing system provided by CageFree Records.
If you experience problems ordering, please contact Customer Service.