For over twenty years, Bones has honed his skills as a percussionist, singer, dancer, choreographer and
producer to create a truly mesmerizing solo act.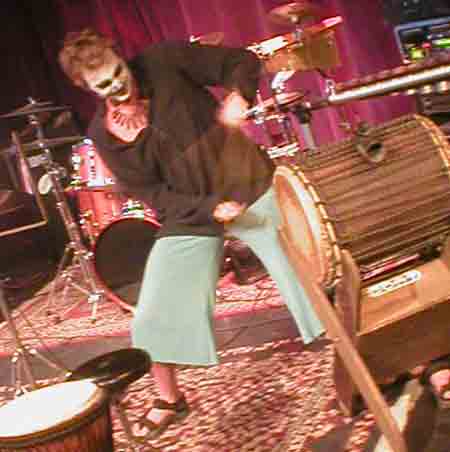 A professional musician since 1986, Bones has toured extensively throughout Europe, the United States and the Caribbean.
His infectious blend of undeniable dance grooves, soaring, upbeat vocals, theatrics and energetic, world dance moves leave audiences of all ages spellbound and stomping thier feet! Specializing in the rhythms and melodies of Africa and Latin America, Bones is a master of polyrhytmic performance.
Everything you hear is played live!
Utilizing the most cutting edge technologies, Bones is able to play and layer a variety of unusual instruments
(Marimbas, Steel Drums, Didgeridoos, Congas, Bongos,
Timbales, Djembe, Djun Djun and Drum-set)
with positive vocals in 4 languages to create a rich mosaic of complex, yet very accessable dance music.
In addition to the devlopment of his solo carreer,
Bones has lent his unique style and theatrical sense to an astounding array of projects including
Jaka, Shakedown Street, El Inocente Theatre Co. and the Director of Stomp to name but a few.

Click Here for Resume'